Is the Name of

Flexiana

Helping or Hurting You?
---
All names are not equal. The names you use create your life experiences. Find out how all the names you use and the energy they create have shaped your life in a free Name and Birth Date Report. Life can be better, find out how.

Your first name, Flexiana, gives you inspirational, idealistic, and dramatic qualities. Sometimes you can be very theatrical and expressive and, at other times, you are reserved and reticent. You tend to be an extremist, focusing your interests, for example, in music, drama, dancing, or art, to the exclusion of other activities. You delight in mysteries and could be drawn to occult studies. You respond very quickly through your feelings, particularly to music; melancholy music can make you feel sad and joyful music can make you feel happy. You enjoy the outdoors, and the beauties and wonders of nature: the song of a bird, the wind in the trees, or the surf crashing against the shore. These expressions of nature inspire your poetic and artistic inclinations, for you sense their harmony and experience placidity. You enjoy atmosphere—candlelight, flowers, violins—all those refinements that create the right setting.

Generally, you are not practical in handling business details or even monotonous tasks around the home unless other influences in your names dictate otherwise. You will put off these aspects until you are forced to take action. You prefer being creative. If given the training, you could excel in literary or artistic composition.

Being a romantic, you love deeply but must guard against possessiveness and jealousy. You are inclined to be suspicious and to build situations out of proportion, perhaps the way someone looks at or speaks to someone you care for; you tend to look for hidden meanings and innuendos. Relying upon the encouragement and strength of close friends and the constant reassurance that you are loved and appreciated is the result of lack of confidence, but may develop misunderstandings when others experience your possessiveness. You have a strong temper, yet regret it as soon as you give vent to it because you do not like to hurt others. At other times, you resort to silence as a method of handling a problem. You do not appreciate being taken for granted. Although you appear calm outwardly, your thoughts can be turbulent. Many times you feel misunderstood and lonely, as you are easily hurt and offended and occasionally suffer from self-pity. You have great imagination, but must guard against morbid thoughts and moods of depression.

Being sensitive, you do not like to be on your own for too long. You feel the silence and it makes you nervous. Yet, you dislike crowds and stressful circumstances. You prefer being with one or two close friends.

You may experience health weaknesses in the lungs, heart, or nervous system because of your high-strung nature.


Do You Want Something Better?
You have a unique inner potential. With your first breath, a spiritual essence and purpose became a part of you and gave you life, caused your heart to beat, and your systems to work, and activated your physical growth. Your particular date of birth determines your unique core purpose, the reason for your life, and the pathway you should follow for ultimate happiness.
Whether your inner potential fully expresses depends upon the names you use!
Are the Names You Use Holding You Back?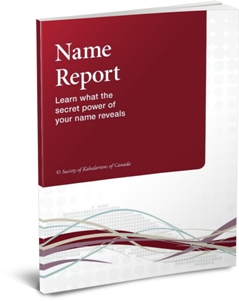 Find out how your life is influenced by all the names you have used. We will analyze your unique inner potential from your date of birth and the names you use in your free Name and Birth Date Report:
Mental/personality strengths and weaknesses
Material and financial success
Key issues in your life that might be holding you back
Personal happiness
Ability to create long-term relationships
Ability to fulfil your inner potential as measured by the date of birth
Why Request your Free Name Report?
The first step in improving your life is to understand why all the names you names use are such a compelling force. A free Name and Birth Date Report will show the effect of all the names you have used:
first name
last name
nicknames
combined names
legal names
business signatures
previous names
All the Names You Use Are Important
The reason for the form below being comprehensive is that all the names you use or have used have impacted your personality and have shaped the conditions in your life. For us to give you the best analysis, and for you to understand the full importance of this principle, complete all the names which apply to you. If you do leave something out you can revise your free Name and Birth Date Report later. We do not share or give this information to anyone.
Your free Name Report will be emailed to you within 5 minutes.
Order Form - Free Name and Birth Date Report
We Are Here To Help
We thank you for your interest and we look forward to talking with you further about the Kabalarian Philosophy after you have read your Name and Birth Date Report. If you require further assistance, please call our head office using our toll free number of 1-866-489-1188 (or 604-263-9551 outside of North America.)
Thought for the Day