Your First Name of:

Mashika

- What does it mean?
Below is a brief analysis only of the first name of Mashika. For an analysis of your full name and destiny, see our free Name and Birth Date Report service for further details.

Your name of Mashika has created your spontaneous, friendly personality. You are outgoing and take an interest in others and, as a result, are very well-liked. Although you do lack confidence in many ways, you have an air of poise and composure which leaves the impression that you have everything under control. Many people would find it hard to believe you were lacking in self-assurance at times because, for example, you can take on a project, especially along social lines such as planning a party, or promoting something that requires organizing people, and do very well.

In your work, you would always feel more secure in an intermediary position where management would make the major, or hard, decisions and you would carry them out using your diplomatic and pleasant way with people for the benefit of all. You are not a high-pressure person but you have a quick, discerning mind and could likely think up ideas for improvement. You are not interested in occupations that are tedious, monotonous, or too detailed, but prefer positions where you are dealing with the public and handling finances, or where you are teaching, or directing others.

You have expensive tastes and do like to dress well and make a good impression. You dislike poverty and the harsh realities of life. To be successful financially builds your security. Because you know the value of money, you endeavour to handle your finances successfully. You have a good business head and know that having friends in higher positions gives you the opportunity to meet and mix with people on a more refined, successful level. You appreciate the comfort that comes with financial success and look for opportunities on what can be gained materially from situations. You have a charming personality, not temperamental, but sometimes lacking in the initiative and interest to handle all your responsibilities promptly. Monotonous tasks tend to be put off until you are forced to take action. Too much responsibility creates stress and confusion and you can tend to become indifferent to your obligations through lack of energy to carry on. You do not have a robust nature and can tire easily. At those times, decision-making is an effort.

You are intuitive to others and as a result give good advice. Your understanding nature allows you to perceive the challenges facing people.

Although you do have some fine qualities, you are not experiencing the fullness life has to offer through growth of mind and the emotional and financial stability that would bring you happiness.

The weakness of this name affects the fluids of the body causing kidney trouble, or generative female disorders. You enjoy the pleasures and comforts of life and have a challenge when it comes to self-discipline. Over-eating of heavier foods could cause weight problems.


Find out more—Free Name and Birth Date Report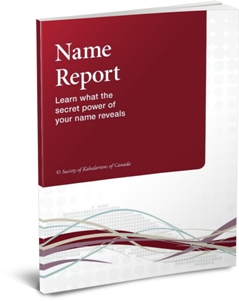 In your free Name and Birth Date Report you will find out how your life is created and shaped by the powerful energies contained in your:
first name
last name
combined names
legal names
business signatures
nickname
life purpose and inner potential measured from your date of birth
destiny
Your report will cover:
the mental strengths and weaknesses your names have created in your thinking.
the key issues in your life shaped by your names that might be holding you back.
the health weaknesses related to the tensions created by improper names and name combinations.
the effect of your names on your ability to be happy and create long-term relationships.
and most importantly, how your names affect your ability to fulfil your inner potential as measured by your birth date.
Your report will be emailed to you as a link to a web document (with an optional PDF download link) within 5 minutes. There is a limit of 6 free reports sent to one email address.
Security of Your Names and Birth Date
The names, birth date, and email you give us are used only in the preparation of your report. We do not share or give this information to anyone.
As well, the information you send us is sent in an encrypted form over a secure internet connection to our server and is totally protected. If you are under 18 be sure to obtain your parent(s) or guardian(s) permission before you order. [Full Privacy and Security Policy]
We only use your email once to send you your Name Report unless you decide to subscribe to our weekly newsletter below.
Order Form - Free Name and Birth Date Report
We Are Here To Help
We thank you for your interest and we look forward to talking with you further about the Kabalarian Philosophy after you have read your free Name and Birth Date Report. If you require further assistance, please call our head office using our toll free number of 1-866-489-1188 (or 604-263-9551 outside of North America.)
Thought for the Day