Your First Name of:

Pualena

- What does it mean?
Below is a brief analysis only of the first name of Pualena. For an analysis of your full name and destiny, see our free Name and Birth Date Report service for further details.

Your name of Pualena gives you independence and determination. From early in life, you have asserted your individuality, learning through your own experiences, relying upon your ingenuity and practical creativity to accomplish your objectives. Once you get an idea, you forge ahead, despite obstacles, until you reach the end of your project. Nothing intimidates you once you make up your mind. You find your own solutions and innovations to get a job completed.

Your name often makes you feel separate and alone. You recognize your difficulty in expressing emotional sentiments and compliments that mean so much to sensitive people. Lavish affection tends to embarrass you, yet often you desire to be natural, and to seek affection and understanding from those closest to you. Unfortunately, it is a challenge for you to express tenderness to others.

You express yourself in as few words as possible and often choose silence rather than idle chatter. As a result, others finding you to be somewhat severe, aloof, and uncommunicative, withdraw from you. You have known misunderstandings and a tendency to jealousy and moods of depression. Under circumstances when others are expressive, you feel inferior because you recognize your inability to communicate your deeper thoughts and feelings. Yet, when others get to know you, they realize you are loyal in your friendships and would go to any length to help someone in need. You are not easily influenced by the opinions and actions of others and therefore can be depended upon for assistance.

You are an active person, with an appreciation for outdoor activities, either on your own or with one or two close friends who share the same affinity for nature and the challenges it provides. You prefer the simple life and do not mind making do at times. You experience peace in nature and, through observing nature, can acknowledge the harmony and the harshness of life that applies to nature's laws of instinct and survival.

Investigating and studying aspects of the universe or nature, for example, as an astronomer or naturalist, appeal to your pioneering qualities and your desire to seek your own answers to life. Exploration and scientific research into the fundamental laws under which life functions captivate your interest. You have a respect for all living things and could have a keen interest in biology or working with animals.

You are not sentimental nor idealistic. You take life as it comes, learning as you go. You will not tolerate dominance by others because your freedom means too much to you. Usually, you would prefer to develop your own business or work for someone who realizes your strengths. You work best where you can combine physical labour with mental activity.

The restrictions of this name cause you to suffer with either headaches, weak eyes, sinus problems, asthma, or heart conditions.


Find out more—Free Name and Birth Date Report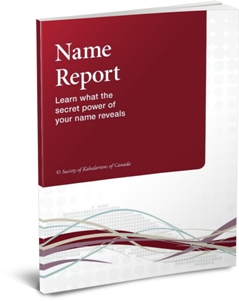 In your free Name and Birth Date Report you will find out how your life is created and shaped by the powerful energies contained in your:
first name
last name
combined names
legal names
business signatures
nickname
life purpose and inner potential measured from your date of birth
destiny
Your report will cover:
the mental strengths and weaknesses your names have created in your thinking.
the key issues in your life shaped by your names that might be holding you back.
the health weaknesses related to the tensions created by improper names and name combinations.
the effect of your names on your ability to be happy and create long-term relationships.
and most importantly, how your names affect your ability to fulfil your inner potential as measured by your birth date.
Your report will be emailed to you as a link to a web document (with an optional PDF download link) within 5 minutes. There is a limit of 6 free reports sent to one email address.
Security of Your Names and Birth Date
The names, birth date, and email you give us are used only in the preparation of your report. We do not share or give this information to anyone.
As well, the information you send us is sent in an encrypted form over a secure internet connection to our server and is totally protected. If you are under 18 be sure to obtain your parent(s) or guardian(s) permission before you order. [Full Privacy and Security Policy]
We only use your email once to send you your Name Report unless you decide to subscribe to our weekly newsletter below.
Order Form - Free Name and Birth Date Report
We Are Here To Help
We thank you for your interest and we look forward to talking with you further about the Kabalarian Philosophy after you have read your free Name and Birth Date Report. If you require further assistance, please call our head office using our toll free number of 1-866-489-1188 (or 604-263-9551 outside of North America.)
Thought for the Day