Is the Name of

Banva

Helping or Hurting You?
---
All names are not equal. The names you use create your life experiences. Find out how all the names you use and the energy they create have shaped your life in a free Name and Birth Date Report. Life can be better, find out how.

Your first name of Banva gives you a friendly, congenial personality and causes you to desire activities involving people. It is very important to you to have peaceful, settled conditions in your life. If you are employed, you would want a job that is secure and dependable, although you would be inclined to be happier in the role of a homemaker than in a role in the business world. Not liking to stand alone, you seek the assurance of love, understanding, and appreciation to give you the confidence to do your best.

Your name incorporates a potential aptitude for concentration and patient, logical thought along detailed, practical lines but it restricts inspirational qualities and the ability to visualize new ideas and theories. You require new ideas or concepts to be presented in complete detail before you can understand them properly and accept them. Sometimes friction in association results because your penchant for exactness and detail can cause you to be too fussy over inconsequential matters in the home or at work.

You are not comfortable having to make major decisions. Even with lesser ones, you prefer to talk them over with a respected friend or associate first. It is not easy for you to face issues and take a stand on them, for not only are you somewhat lacking in self-confidence, but also you prefer to avoid situations in which there could be dissension. It is hard for you to face an issue directly and say "yes" or "no" and mean it, though you have a quickness of mind that enables you to respond with artful diplomacy to evade unpleasant situations.

Procrastination, which arises from not being sure of yourself, is one of your major weaknesses because of your preference to avoid issues or unpleasantness in all forms. This uncertainty and indecision undermines your initiative, positivity, and vitality. Although you may dream of better things, you find it hard to maintain the drive to go after them.

You have a strong emotional nature that, if not kept under control, could be detrimental to your health or result in problems in close personal relationships. Others do not always realize how sensitive and aware you are of their thoughts and feelings toward you. This name brings the tendency to magnify small issues out of proportion or to become too involved in personality conflicts. At times you exhibit an uncompromising attitude and indifference toward others through failing to listen to and reason out another person's point of view.

Weaknesses in your physical body show in either the fluid functions or the digestive and eliminative tract. The lack of vitality in the circulation of your bloodstream will limit your energy, and could cause swelling of the legs and feet, and even result in varicose veins. Growths could also be a possibility.

While you do have many fine qualities, the tensions created by this name do not allow you to enjoy a full and complete life.


Do You Want Something Better?
You have a unique inner potential. With your first breath, a spiritual essence and purpose became a part of you and gave you life, caused your heart to beat, and your systems to work, and activated your physical growth. Your particular date of birth determines your unique core purpose, the reason for your life, and the pathway you should follow for ultimate happiness.
Whether your inner potential fully expresses depends upon the names you use!
Are the Names You Use Holding You Back?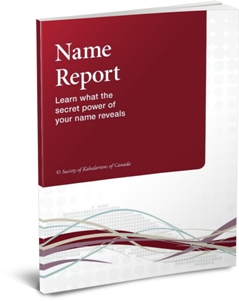 Find out how your life is influenced by all the names you have used. We will analyze your unique inner potential from your date of birth and the names you use in your free Name and Birth Date Report:
Mental/personality strengths and weaknesses
Material and financial success
Key issues in your life that might be holding you back
Personal happiness
Ability to create long-term relationships
Ability to fulfil your inner potential as measured by the date of birth
Why Request your Free Name Report?
The first step in improving your life is to understand why all the names you names use are such a compelling force. A free Name and Birth Date Report will show the effect of all the names you have used:
first name
last name
nicknames
combined names
legal names
business signatures
previous names
All the Names You Use Are Important
The reason for the form below being comprehensive is that all the names you use or have used have impacted your personality and have shaped the conditions in your life. For us to give you the best analysis, and for you to understand the full importance of this principle, complete all the names which apply to you. If you do leave something out you can revise your free Name and Birth Date Report later. We do not share or give this information to anyone.
Your free Name Report will be emailed to you within 5 minutes.
Order Form - Free Name and Birth Date Report
We Are Here To Help
We thank you for your interest and we look forward to talking with you further about the Kabalarian Philosophy after you have read your Name and Birth Date Report. If you require further assistance, please call our head office using our toll free number of 1-866-489-1188 (or 604-263-9551 outside of North America.)
Thought for the Day