Is the Name of

Gilliam

Helping or Hurting You?
---
All names are not equal. The names you use create your life experiences. Find out how all the names you use and the energy they create have shaped your life in a free Name and Birth Date Report. Life can be better, find out how.

Your name Gilliam creates interests in the arts, music, drama, elocution, dancing, design, or composition. At times, you are an extremist in whatever holds your interest, with the result that you focus all your energies, your ingenuity, and originality of thought to do your best. You like to add something new, something different, to your creativity, drawing upon your inventive traits. You appreciate mental exploration into new ideas.

You tend to scatter your efforts by being involved in too many activities at times, thereby forfeiting success in some areas because of lack of attention to detail. You dislike monotony. Independence and freedom of action mean a great deal to you; therefore, you enjoy positions where you are giving instructions rather than taking them. You have your own strong opinions and it is not easy for you to be influenced by others to change your mind once you have reached a decision. Because of your definite ideas and opinions, you work best on your own, free from the advice or interference of others. Your obstinate traits and candid expression have, at times, spoiled friendships.

Being somewhat excitable and high-strung, you realize that if provoked, you have a strong temper. There are times you have regretted the rage and fury you felt, yet it is difficult for you to control your feelings. Overtaxing your nervous system by being under too much pressure brings about your temperamental reactions. Often you do the things you like to excess and, as a result, you wear yourself out. You could develop a dependence on medication, for example, to relieve the tension. Learning to withdraw, particularly in the outdoors environment, can bring a sense of peace and relaxation for you as you occupy your thoughts with the beauty and phenomena of nature.

Your name of $ has given you an appreciation for people and desire to be of service in some way, perhaps in a charitable institution or in an education centre. You could be drawn into teaching others. When you are happy and giving, you have a charming personality, you make friends easily, and would go to great lengths to help someone in need.

You desire to be recognized for your efforts, and, if you feel you are being taken for granted, you are apt to become intolerant, critical, and complaining. You can be too possessive of those who mean the most to you and must guard against jealousy. This quality can spoil friendships and create losses in the affections.

Stress causes health weaknesses to centre in the senses of the head, or the nervous system.


Do You Want Something Better?
You have a unique inner potential. With your first breath, a spiritual essence and purpose became a part of you and gave you life, caused your heart to beat, and your systems to work, and activated your physical growth. Your particular date of birth determines your unique core purpose, the reason for your life, and the pathway you should follow for ultimate happiness.
Whether your inner potential fully expresses depends upon the names you use!
Are the Names You Use Holding You Back?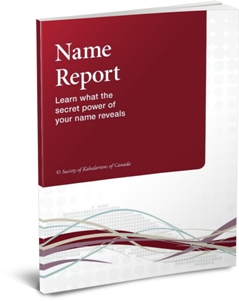 Find out how your life is influenced by all the names you have used. We will analyze your unique inner potential from your date of birth and the names you use in your free Name and Birth Date Report:
Mental/personality strengths and weaknesses
Material and financial success
Key issues in your life that might be holding you back
Personal happiness
Ability to create long-term relationships
Ability to fulfil your inner potential as measured by the date of birth
Why Request your Free Name Report?
The first step in improving your life is to understand why all the names you names use are such a compelling force. A free Name and Birth Date Report will show the effect of all the names you have used:
first name
last name
nicknames
combined names
legal names
business signatures
previous names
All the Names You Use Are Important
The reason for the form below being comprehensive is that all the names you use or have used have impacted your personality and have shaped the conditions in your life. For us to give you the best analysis, and for you to understand the full importance of this principle, complete all the names which apply to you. If you do leave something out you can revise your free Name and Birth Date Report later. We do not share or give this information to anyone.
Your free Name Report will be emailed to you within 5 minutes.
Order Form - Free Name and Birth Date Report
We Are Here To Help
We thank you for your interest and we look forward to talking with you further about the Kabalarian Philosophy after you have read your Name and Birth Date Report. If you require further assistance, please call our head office using our toll free number of 1-866-489-1188 (or 604-263-9551 outside of North America.)
Thought for the Day