Is the Name of

Mckalia

Helping or Hurting You?
---
All names are not equal. The names you use create your life experiences. Find out how all the names you use and the energy they create have shaped your life in a free Name and Birth Date Report. Life can be better, find out how.

Your first name of Mckalia causes you to be quick-minded and never at a loss for words. When you are feeling relaxed and cheerful, you can be very charming and able to say just the right thing to compliment or inspire someone.

When challenged for an explanation on a matter that could cause conflict, you can almost instantly come up with an acceptable answer to deflect the issue, even if you have to stretch the truth a little. You make the effort to communicate with others because you place importance on having people like you. Talking comes easily to you, but you must guard against your inclination to talk too much, especially if you are overstressed.

Because you are expressive, you could be good in sales, but here again, must avoid talking the customer both into and out of the sale. When you are annoyed or under excessive pressure, you must be careful not to be biting in your speech, fault-finding, and hard to please.

Your name creates two conflicting natures. One side desires placidity, relaxation, and social activities, while the other side longs for change and travel, and opportunities that allow you to be creative and independent from all routine and interference. Farther fields look greener to you and you find it hard to finish what you have started. Your difficulty in accumulating wealth or stabilizing your finances often causes your personal affairs to be in a turmoil.

The qualities in this name tend to narrow your opportunities by hindering your ability to concentrate. A poor memory could eventually be a problem.

There is much confusion under this name, and your moods will fluctuate from one extreme to the other. You could, at times, be too easily influenced against your better judgment, and be led along paths or into activities that put you at risk.

Your extreme sensitivity and intensity have an adverse effect on your nervous system and, under extreme pressure, could cause a nervous breakdown. Through lack of discretion and being too emotional, you could attract bitter experiences and disappointments in people. This unsettledness will take its toll on your health causing you to have a sensitive, nervous stomach, indigestion, and a tendency toward ulcers. It could also cause upsets in the fluid functions: in the kidneys, bladder, or circulatory system of your body. These upsets drain your vitality and make you tire more readily.

While you do have a quick, clever mind, the tensions and limitations this name places upon your happiness and success in life far outweigh the benefits.


Do You Want Something Better?
You have a unique inner potential. With your first breath, a spiritual essence and purpose became a part of you and gave you life, caused your heart to beat, and your systems to work, and activated your physical growth. Your particular date of birth determines your unique core purpose, the reason for your life, and the pathway you should follow for ultimate happiness.
Whether your inner potential fully expresses depends upon the names you use!
Are the Names You Use Holding You Back?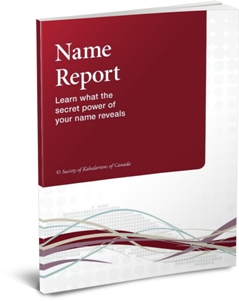 Find out how your life is influenced by all the names you have used. We will analyze your unique inner potential from your date of birth and the names you use in your free Name and Birth Date Report:
Mental/personality strengths and weaknesses
Material and financial success
Key issues in your life that might be holding you back
Personal happiness
Ability to create long-term relationships
Ability to fulfil your inner potential as measured by the date of birth
Why Request your Free Name Report?
The first step in improving your life is to understand why all the names you names use are such a compelling force. A free Name and Birth Date Report will show the effect of all the names you have used:
first name
last name
nicknames
combined names
legal names
business signatures
previous names
All the Names You Use Are Important
The reason for the form below being comprehensive is that all the names you use or have used have impacted your personality and have shaped the conditions in your life. For us to give you the best analysis, and for you to understand the full importance of this principle, complete all the names which apply to you. If you do leave something out you can revise your free Name and Birth Date Report later. We do not share or give this information to anyone.
Your free Name Report will be emailed to you within 5 minutes.
Order Form - Free Name and Birth Date Report
We Are Here To Help
We thank you for your interest and we look forward to talking with you further about the Kabalarian Philosophy after you have read your Name and Birth Date Report. If you require further assistance, please call our head office using our toll free number of 1-866-489-1188 (or 604-263-9551 outside of North America.)
Thought for the Day