Your First Name of:

Qumri

- What does it mean?
Below is a brief analysis only of the first name of Qumri. For an analysis of your full name and destiny, see our free Name and Birth Date Report service for further details.

Your name Qumri incorporates qualities of spontaneity, creativity, and happiness. You appreciate people, make friends easily, and look for the best in others. Your optimism and kind qualities are infectious. You make others happy through acts of generosity, a sense of humour, and your natural affectionate, occasionally flirtatious nature. Although you can be easily hurt through unkind words or criticism, you seldom show it nor do you remain despondent, for you are a forgiving person who usually does not carry hostility and resentment. Encouragement and appreciation expressed by others bring out your best. A zest for living and a buoyant, outgoing perspective keep you young in mind and body. You are an active person, and like to be at the centre of activities.

Within your name are both practical and inspirational qualities. You could excel in artistic, musical lines, in public speaking, or in sales. With discipline you could be systematic and orderly; but you tend to be scattering in your thinking and habits, starting many activities that you do not finish, and putting off those jobs that require attention to detail, like budgeting. Those responsibilities are often handled in a rush at the last moment. You could be somewhat spendthrifty in your enjoyment of the pleasures of life. Your versatility, quickness of mind, and self-expression, however, carry you through many troublesome situations.

Because you do not always like to plan your activities ahead of time, you appreciate work that minimizes the amount of detail you have to handle and allows you to deal with people. Being versatile and imaginative, you could succeed in interior or fashion design, as you have a natural eye for colour and proportion, and a creative imagination. You are not technically or mathematically inclined, unless other influences indicate interest along these lines. You resist being told what to do, at which times you can be stubborn and argumentative; but, on the other hand, appreciation and teamwork always encourage you to strive diligently in whatever you undertake.

You are somewhat impulsive and unpredictable frequently acting on the spur of the moment. You enjoy surprises, spontaneous activities, and opportunities to socialize. You love home and family responsibilities, but if life becomes too routine and monotonous, you look for ways to create variety.

Your spontaneous expression often causes you to speak out of turn, instead of allowing those who are reserved or slower in verbalizing their thoughts the opportunity to express. There is a tendency for you to be somewhat impatient and intolerant of the weaknesses of others, perhaps interfering with and imposing your will upon them.

As you can see humour in many of life's situations, you can laugh at your own discomfiture as well as that of others. You are not vindictive, nor inclined to hold a grudge. There are times when you are too easily influenced through the emotions which overwhelm your reasoning powers. Sometimes your sympathy for others can draw you into embarrassing emotional situations.

You have a healthy appetite, and are fond of sweets and starchy foods. Over-eating can affect the liver, at times, causing biliousness, headaches, or skin eruptions.


Find out more—Free Name and Birth Date Report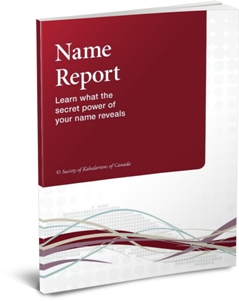 In your free Name and Birth Date Report you will find out how your life is created and shaped by the powerful energies contained in your:
first name
last name
combined names
legal names
business signatures
nickname
life purpose and inner potential measured from your date of birth
destiny
Your report will cover:
the mental strengths and weaknesses your names have created in your thinking.
the key issues in your life shaped by your names that might be holding you back.
the health weaknesses related to the tensions created by improper names and name combinations.
the effect of your names on your ability to be happy and create long-term relationships.
and most importantly, how your names affect your ability to fulfil your inner potential as measured by your birth date.
Your report will be emailed to you as a link to a web document (with an optional PDF download link) within 5 minutes. There is a limit of 6 free reports sent to one email address.
Security of Your Names and Birth Date
The names, birth date, and email you give us are used only in the preparation of your report. We do not share or give this information to anyone.
As well, the information you send us is sent in an encrypted form over a secure internet connection to our server and is totally protected. If you are under 18 be sure to obtain your parent(s) or guardian(s) permission before you order. [Full Privacy and Security Policy]
We only use your email once to send you your Name Report unless you decide to subscribe to our weekly newsletter below.
Order Form - Free Name and Birth Date Report
We Are Here To Help
We thank you for your interest and we look forward to talking with you further about the Kabalarian Philosophy after you have read your free Name and Birth Date Report. If you require further assistance, please call our head office using our toll free number of 1-866-489-1188 (or 604-263-9551 outside of North America.)
Thought for the Day