Is the Name of

Tika

Helping or Hurting You?
---
All names are not equal. The names you use create your life experiences. Find out how all the names you use and the energy they create have shaped your life in a free Name and Birth Date Report. Life can be better, find out how.

Your name of Tika intensifies qualities within you of independence, positivity, and restlessness. It gives you the desire to be a leader, to pioneer new undertakings, and to try new ideas in practical, creative occupations. This name gives the urge to leave home early in life. It makes you self-sufficient and self-reliant. Your great initiative and driving power could lead you into sales and promotional positions.

Unfortunately, this name makes it difficult for you to concentrate and to finish what you start because, once your interest in a project wanes, you begin to look for something new, something different to challenge yourself, anything to avoid monotony and the handling of details. You attend to tedious responsibilities only when you have no other alternative. You expect a great deal of yourself and of others, and you are seldom satisfied with your accomplishments. You often feel you could have achieved even better results. Over-intensity is your challenge; you put a great deal of effort into your activities, but often fail to take time to relax, to view your plans objectively, and perhaps, to consider the opinions of others. Therefore, if anyone interferes with your activities or offers unsolicited advice, you are inclined to react defensively and express your feelings in a blunt and, at times, caustic manner. If, for some reason, you cannot carry out your plans, you can experience deep moods of depression. You work best alone and are happiest when expressing your many ideas creatively in an area that offers flexibility and challenge. You rebel at restrictions and are resourceful in unexpected circumstances.

Because of the restless qualities within your first name, it is very often difficult for you to find pleasure in ordinary congeniality. You tend to express yourself in an opinionated, candid, and matter-of-fact manner. Generally, you do not like to waste time on superficial conversation. As it is difficult for you to express the little attentions and niceties that appeal to more sensitive natures, you attract misunderstandings with those who do not appreciate your forthright manner. Your love for others is shown more in your loyalty and sense of fair play rather than in any overt demonstrations of love and affection. Lavish displays of emotion tend to embarrass you, making you feel self-conscious and inadequate. When you are annoyed, you must guard against a strong temper and the expression of intolerance and criticism.

You could experience a great deal of pleasure in outdoor physical activity or sports. You appreciate nature and the freedom associated with being in a natural environment. Exploring new areas on your own, or with a few close friends, holds definite appeal and offers a constructive outlet for your restless energy.

The repression and frustration that you may experience at challenging moments in your life cause nervous indigestion and, in the worst cases, could result in ulcers and severe stomach problems. Intensity affects the senses of your head as well, whereby you could suffer with migraine headaches, sinus problems, or throat and swallowing difficulties. This name spoils relaxation and contentment, the mental qualities necessary for good health.


Do You Want Something Better?
You have a unique inner potential. With your first breath, a spiritual essence and purpose became a part of you and gave you life, caused your heart to beat, and your systems to work, and activated your physical growth. Your particular date of birth determines your unique core purpose, the reason for your life, and the pathway you should follow for ultimate happiness.
Whether your inner potential fully expresses depends upon the names you use!
Are the Names You Use Holding You Back?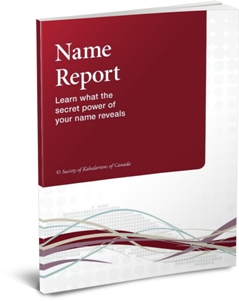 Find out how your life is influenced by all the names you have used. We will analyze your unique inner potential from your date of birth and the names you use in your free Name and Birth Date Report:
Mental/personality strengths and weaknesses
Material and financial success
Key issues in your life that might be holding you back
Personal happiness
Ability to create long-term relationships
Ability to fulfil your inner potential as measured by the date of birth
Why Request your Free Name Report?
The first step in improving your life is to understand why all the names you names use are such a compelling force. A free Name and Birth Date Report will show the effect of all the names you have used:
first name
last name
nicknames
combined names
legal names
business signatures
previous names
All the Names You Use Are Important
The reason for the form below being comprehensive is that all the names you use or have used have impacted your personality and have shaped the conditions in your life. For us to give you the best analysis, and for you to understand the full importance of this principle, complete all the names which apply to you. If you do leave something out you can revise your free Name and Birth Date Report later. We do not share or give this information to anyone.
Your free Name Report will be emailed to you within 5 minutes.
Order Form - Free Name and Birth Date Report
We Are Here To Help
We thank you for your interest and we look forward to talking with you further about the Kabalarian Philosophy after you have read your Name and Birth Date Report. If you require further assistance, please call our head office using our toll free number of 1-866-489-1188 (or 604-263-9551 outside of North America.)
Thought for the Day