Is the Name of

Vulla

Helping or Hurting You?
---
All names are not equal. The names you use create your life experiences. Find out how all the names you use and the energy they create have shaped your life in a free Name and Birth Date Report. Life can be better, find out how.

As Vulla, you experience opposing qualities in your nature: the desire for system, concentration, settled conditions, and step-by-step progress, and the urge for change and new experiences. As a result, you do not find it easy to be happy and content but feel frustration at times in trying to understand your turbulent feelings and thinking. You are analytical and matter-of-fact, and have interests along scientific, technical, or mathematical lines. You enjoy hobbies that are creative but practical. Unless you have other qualities in your names that offset the practical influence, this name does not allow you fully to develop your depth of appreciation for philosophy, music, or the arts. Although you are curious about life, you must first be interested in a subject through facts and details before you will pursue a line of thought. Obscure theory and imaginative speculation are not of interest to you. You could be exceptionally brilliant in any subject or activity that holds your interest. You are an exacting person, capable and efficient, appreciating routine and a certain consistency of effort. Efficiency is important to you. It is difficult for you not to become irritated by the ineptitude and carelessness of others.

When given a challenge, you are thorough, persistent, and conscientious, but once the challenge wanes, it becomes an aggravation to carry on. You scatter your efforts and find it extremely difficult to finish what you start. That is when your qualities of impatience and discontent may express, and you begin to desire something new to offset the feelings of limitation and restlessness you are experiencing. On the other hand, many times you are taken into new experiences before you have had a chance to complete a current undertaking satisfactorily, and that also creates frustration. However, you can be rather impulsive and there are times you make decisions and regret them. Rarely does an accomplishment bring you satisfaction as you are extremely analytical and demanding, of both yourself and others.

The practicality of your name inhibits your deeper, softer, affectionate feelings towards others. You are inclined to be candid in speech and manner. You show your love for family and friends in what you do for them rather than what you say. Delicate matters are not easy for you to handle with finesse.

You enjoy the outdoors and could excel in sports activities. You have boundless ingenuity and nervous energy. Sometimes you find it hard to relax your mind or body unless you have reached the point of exhaustion.

Mostly you appreciate a settled home environment, an occupation that carries a certain challenge and opportunities to develop practical skills. However, because of the opposing qualities in your nature, rarely are you completely satisfied with your lot in life. Being independent and somewhat set in your ways, you do not change your mind readily once you have formed your opinions. This turmoil of opposing forces affects your nervous system, causing tension in your stomach, and intestinal or generative organs.


Do You Want Something Better?
You have a unique inner potential. With your first breath, a spiritual essence and purpose became a part of you and gave you life, caused your heart to beat, and your systems to work, and activated your physical growth. Your particular date of birth determines your unique core purpose, the reason for your life, and the pathway you should follow for ultimate happiness.
Whether your inner potential fully expresses depends upon the names you use!
Are the Names You Use Holding You Back?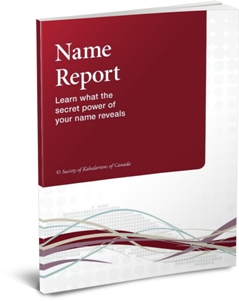 Find out how your life is influenced by all the names you have used. We will analyze your unique inner potential from your date of birth and the names you use in your free Name and Birth Date Report:
Mental/personality strengths and weaknesses
Material and financial success
Key issues in your life that might be holding you back
Personal happiness
Ability to create long-term relationships
Ability to fulfil your inner potential as measured by the date of birth
Why Request your Free Name Report?
The first step in improving your life is to understand why all the names you names use are such a compelling force. A free Name and Birth Date Report will show the effect of all the names you have used:
first name
last name
nicknames
combined names
legal names
business signatures
previous names
All the Names You Use Are Important
The reason for the form below being comprehensive is that all the names you use or have used have impacted your personality and have shaped the conditions in your life. For us to give you the best analysis, and for you to understand the full importance of this principle, complete all the names which apply to you. If you do leave something out you can revise your free Name and Birth Date Report later. We do not share or give this information to anyone.
Your free Name Report will be emailed to you within 5 minutes.
Order Form - Free Name and Birth Date Report
We Are Here To Help
We thank you for your interest and we look forward to talking with you further about the Kabalarian Philosophy after you have read your Name and Birth Date Report. If you require further assistance, please call our head office using our toll free number of 1-866-489-1188 (or 604-263-9551 outside of North America.)
Thought for the Day