Is the Name of

Azariyah

Helping or Hurting You?
---
All names are not equal. The names you use create your life experiences. Find out how all the names you use and the energy they create have shaped your life in a free Name and Birth Date Report. Life can be better, find out how.

Your name Azariyah makes you spontaneous, confident, poised, and versatile. You could be the consummate host as you enjoy being the centre of attention and engaging in conversation and social interaction. Self-expression and dealing with the public are your forte, enabling you to excel in public speaking, in sales and marketing, or in the entertainment world. You are able to work well with people and gravitate to positions where you organize and direct others.

Your ambitious nature and desire for independence cause you to feel frustrated whenever you are in a subordinate position where you are required to follow the directions of others. You prefer a position of authority where your vision and foresight have full expression, and where you exercise responsibility and trust. You could develop managerial and executive abilities as you have the analytical ability, acumen, and mental stability to thrive under the challenges of decision making. Your positivity and confidence would enable you to hold your ground in negotiation and bargaining, or in dealing with adversity. You are not easily influenced against your better judgment. Financial independence for yourself and your family is of primary importance. Your sense of financial and material values motivates you to demand quality and value in all things. In order to project an appearance of success and prosperity, you indulge in expensive tastes regarding your possessions and lifestyle. Your appreciation for the comforts and pleasures of life can lead to excess in the activities you enjoy most. At times, you can be magnanimous to a fault and overspend but, generally, your prudence maintains stability in your financial affairs.

The practical side of your nature appreciates system and order while, at the same time, you seek to avoid monotony and boredom. You have a zest for life along with a happy, cheerful, stable disposition that others enjoy. Not naturally moody or depressed, you rebound from any momentary despondency with optimism and appreciation for life. Humour comes naturally, as you can laugh both at your own discomfiture and at the humorous side in the disconcerting experiences of others. You thrive on appreciation and encouragement but can be deeply hurt through unkind words, yet you would never show it. On occasion, you can be intolerant and critical of others, quick to argue, and to dominate conversations. You insist on having the last word. You enjoy music and the arts. If you were given the training, you could excel as a musician or artist. Your entrepreneurial inclinations would prompt you to consider commercializing your talents.

Your pursuit of the good life and your enjoyment of foods of all kinds can cause health problems. Over-indulgence and disregard for a healthy lifestyle could lead to skin conditions and liver ailments. The generative organs could also be affected.


Do You Want Something Better?
You have a unique inner potential. With your first breath, a spiritual essence and purpose became a part of you and gave you life, caused your heart to beat, and your systems to work, and activated your physical growth. Your particular date of birth determines your unique core purpose, the reason for your life, and the pathway you should follow for ultimate happiness.
Whether your inner potential fully expresses depends upon the names you use!
Are the Names You Use Holding You Back?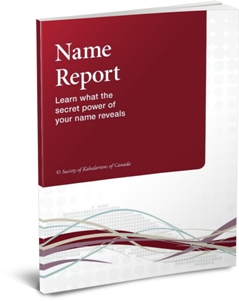 Find out how your life is influenced by all the names you have used. We will analyze your unique inner potential from your date of birth and the names you use in your free Name and Birth Date Report:
Mental/personality strengths and weaknesses
Material and financial success
Key issues in your life that might be holding you back
Personal happiness
Ability to create long-term relationships
Ability to fulfil your inner potential as measured by the date of birth
Why Request your Free Name Report?
The first step in improving your life is to understand why all the names you names use are such a compelling force. A free Name and Birth Date Report will show the effect of all the names you have used:
first name
last name
nicknames
combined names
legal names
business signatures
previous names
All the Names You Use Are Important
The reason for the form below being comprehensive is that all the names you use or have used have impacted your personality and have shaped the conditions in your life. For us to give you the best analysis, and for you to understand the full importance of this principle, complete all the names which apply to you. If you do leave something out you can revise your free Name and Birth Date Report later. We do not share or give this information to anyone.
Your free Name Report will be emailed to you within 5 minutes.
Order Form - Free Name and Birth Date Report
We Are Here To Help
We thank you for your interest and we look forward to talking with you further about the Kabalarian Philosophy after you have read your Name and Birth Date Report. If you require further assistance, please call our head office using our toll free number of 1-866-489-1188 (or 604-263-9551 outside of North America.)
Thought for the Day