Is the Name of

Omaru

Helping or Hurting You?
---
All names are not equal. The names you use create your life experiences. Find out how all the names you use and the energy they create have shaped your life in a free Name and Birth Date Report. Life can be better, find out how.

Your name of Omaru has given you rather intense qualities of independence, positivity, and restlessness. This name creates a desire to be a leader, to pioneer new undertakings, and to try new ideas in practical, creative endeavours that provide an outlet for your versatility and imagination. Your great initiative and driving power would enable you to excel in sales and promotion, and could take you far in business success, but you must guard against a tendency to lose interest once your initial enthusiasm in a project wanes.

Your self-sufficient and self-reliant nature gave you the urge to leave home early in life to be free from parental restraint, and to establish your independence and freedom from tradition. Although you would not be demonstrative of your feelings in family relationships, you maintain a strong sense of loyalty. In your dealings with people you place great importance in living up to one's word. Once you have given your word and undertaken a commitment, you are completely steadfast in following through in spite of any regret or frustration you may later experience in doing so. You expect as much from others in return but find, either through misunderstanding or lack of principle in others, you are often let down, leaving you feeling bitter and betrayed.

The urge for action and progress is such a strong force in your nature that you find difficulty in controlling it. Other fields always look greener, with the result that you experience a great deal of dissatisfaction with your present circumstances. You feel happy and in good spirits as long as headway is being made, but as soon as you feel obstructed or your individuality and freedom of action are curtailed, you experience an intense nervous reaction in your solar plexus. Routine, monotony, and the responsibility of looking after details can have a similar effect. Moods of depression often result during which you can find control of your temper difficult, becoming caustic and belligerent in your attitude toward everyone, especially to those in closest association with you. Any criticism from others causes you to retaliate cuttingly in self-defence. Family and friends find it hard to understand you because of your changing moods, and because of an intolerance and indifference towards their ideas, interests, and feelings. At the best of times, you are not naturally disposed to be companionable and sociable, as diplomacy and finding the right words for the situation do not come easily to you.

Competitive sports or challenging outdoor activities bring you pleasure and relief from pent-up frustrations. However you must beware of driving yourself to exhaustion as a substitute for relaxation. Also, you must guard against using indulgence as an escape. Nervous tension in your solar plexus often causes indigestion and, over time, could lead to ulcers and severe stomach problems. Ailments could also centre in the head causing headaches, sinus problems, or defective eyesight, hearing, or teeth. The effect of the nervous tension can appear in childhood as stuttering.


Do You Want Something Better?
You have a unique inner potential. With your first breath, a spiritual essence and purpose became a part of you and gave you life, caused your heart to beat, and your systems to work, and activated your physical growth. Your particular date of birth determines your unique core purpose, the reason for your life, and the pathway you should follow for ultimate happiness.
Whether your inner potential fully expresses depends upon the names you use!
Are the Names You Use Holding You Back?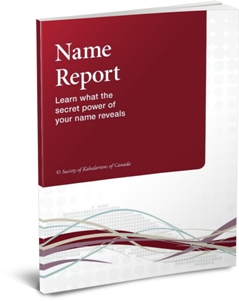 Find out how your life is influenced by all the names you have used. We will analyze your unique inner potential from your date of birth and the names you use in your free Name and Birth Date Report:
Mental/personality strengths and weaknesses
Material and financial success
Key issues in your life that might be holding you back
Personal happiness
Ability to create long-term relationships
Ability to fulfil your inner potential as measured by the date of birth
Why Request your Free Name Report?
The first step in improving your life is to understand why all the names you names use are such a compelling force. A free Name and Birth Date Report will show the effect of all the names you have used:
first name
last name
nicknames
combined names
legal names
business signatures
previous names
All the Names You Use Are Important
The reason for the form below being comprehensive is that all the names you use or have used have impacted your personality and have shaped the conditions in your life. For us to give you the best analysis, and for you to understand the full importance of this principle, complete all the names which apply to you. If you do leave something out you can revise your free Name and Birth Date Report later. We do not share or give this information to anyone.
Your free Name Report will be emailed to you within 5 minutes.
Order Form - Free Name and Birth Date Report
We Are Here To Help
We thank you for your interest and we look forward to talking with you further about the Kabalarian Philosophy after you have read your Name and Birth Date Report. If you require further assistance, please call our head office using our toll free number of 1-866-489-1188 (or 604-263-9551 outside of North America.)
Thought for the Day