Is the Name of

Kaaviyan

Helping or Hurting You?
---
All names are not equal. The names you use create your life experiences. Find out how all the names you use and the energy they create have shaped your life in a free Name and Birth Date Report. Life can be better, find out how.

Your first name of Kaaviyan makes you extremely generous.

You have a bubbling, spontaneous nature and a happy-go-lucky outlook which helps smooth the pathway of life.

Also you are sympathetic to the needs of others.

Interested in art, music, singing, dancing, and anything of an artistic nature, you could become a very fine performer.

Your spontaneous expression stands you in good stead during arguments or debates, though you are perhaps too outspoken and inclined to sarcasm.

A very real weakness of this name is lack of system and order.

The use of this name makes it extremely difficult to carry through and finish the things you start.

It is easy to make promises in an effort to make others happy, although not so easy to keep them.

You spend your money recklessly, seldom reckoning whether you can afford to be so generous.

The use of this name can cause weak ankles, a strong desire for such foods as sweets or pickles, which causes skin or liver troubles, and a desire to eat too quickly.
Do You Want Something Better?
You have a unique inner potential. With your first breath, a spiritual essence and purpose became a part of you and gave you life, caused your heart to beat, and your systems to work, and activated your physical growth. Your particular date of birth determines your unique core purpose, the reason for your life, and the pathway you should follow for ultimate happiness.
Whether your inner potential fully expresses depends upon the names you use!
Are the Names You Use Holding You Back?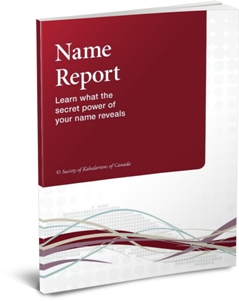 Find out how your life is influenced by all the names you have used. We will analyze your unique inner potential from your date of birth and the names you use in your free Name and Birth Date Report:
Mental/personality strengths and weaknesses
Material and financial success
Key issues in your life that might be holding you back
Personal happiness
Ability to create long-term relationships
Ability to fulfil your inner potential as measured by the date of birth
Why Request your Free Name Report?
The first step in improving your life is to understand why all the names you names use are such a compelling force. A free Name and Birth Date Report will show the effect of all the names you have used:
first name
last name
nicknames
combined names
legal names
business signatures
previous names
All the Names You Use Are Important
The reason for the form below being comprehensive is that all the names you use or have used have impacted your personality and have shaped the conditions in your life. For us to give you the best analysis, and for you to understand the full importance of this principle, complete all the names which apply to you. If you do leave something out you can revise your free Name and Birth Date Report later. We do not share or give this information to anyone.
Your free Name Report will be emailed to you within 5 minutes.
Order Form - Free Name and Birth Date Report
We Are Here To Help
We thank you for your interest and we look forward to talking with you further about the Kabalarian Philosophy after you have read your Name and Birth Date Report. If you require further assistance, please call our head office using our toll free number of 1-866-489-1188 (or 604-263-9551 outside of North America.)
Thought for the Day