Is the Name of

Anaiza

Helping or Hurting You?
---
All names are not equal. The names you use create your life experiences. Find out how all the names you use and the energy they create have shaped your life in a free Name and Birth Date Report. Life can be better, find out how.

Your name, Anaiza, incorporates an appreciation for people, a love of music and the arts, and a high regard for nature, its mysteries and beauties. You have a philosophical interest in knowing the "why's" and "wherefore's" of life, but you tend to drift into daydreams and to find it challenging to concentrate and apply system and order in your activities. When life becomes too routine and monotonous, you look for ways to create variety.

If given the training, you could excel in music, art, or drama as you are refined and sensitive, emotional and temperamental, and can be easily and deeply moved by music, drama, and affection. You have a clever imagination and an ability to express your deeper thoughts and feelings through composition and poetry. There are times when you are outgoing and cosmopolitan, and other times when you become reflective and aloof, drawing away from association with others. You can be acutely hurt by unkind comments and it is at such times that you withdraw into your own world of thought. You seldom express your deeper thoughts for fear of being ridiculed or your meaning misconstrued. When you feel understood, you tend to show your affection for others through acts of consideration.

You sense and feel much that you do not understand, and sometimes you are alarmed at some of your thoughts and visions. You wonder about their origin. As you are intuitive to the thoughts and feelings of others, you seldom experience the tranquility that comes with composed thinking and emotional control.

You desire happiness, love, and understanding. You dream of romance, but you have experienced heartache because of your idealistic qualities. Sometimes it is difficult for you to face life's realities with their hardships, stress, and turmoil and you often find yourself combating fears of the future and the aspects of life that appear mysterious. You are sympathetic to the needs of others and generous in your aspirations to help people. You would give away your last dollar if you felt it would help someone in need.

You must fight against self-consciousness and insecurity. You have many wonderful ideas and plans but fail to initiate action because of lack of confidence.

Any health weaknesses tend to affect the bronchial organs with such ailments as colds, asthma, hayfever, or in severe cases, tuberculosis or heart troubles. You are fond of sugars, starches, and sours and, depending on how often you eat these foods, you could be subject to such conditions as eczema or arthritis.


Do You Want Something Better?
You have a unique inner potential. With your first breath, a spiritual essence and purpose became a part of you and gave you life, caused your heart to beat, and your systems to work, and activated your physical growth. Your particular date of birth determines your unique core purpose, the reason for your life, and the pathway you should follow for ultimate happiness.
Whether your inner potential fully expresses depends upon the names you use!
Are the Names You Use Holding You Back?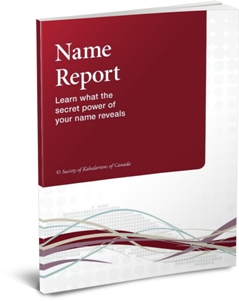 Find out how your life is influenced by all the names you have used. We will analyze your unique inner potential from your date of birth and the names you use in your free Name and Birth Date Report:
Mental/personality strengths and weaknesses
Material and financial success
Key issues in your life that might be holding you back
Personal happiness
Ability to create long-term relationships
Ability to fulfil your inner potential as measured by the date of birth
Why Request your Free Name Report?
The first step in improving your life is to understand why all the names you names use are such a compelling force. A free Name and Birth Date Report will show the effect of all the names you have used:
first name
last name
nicknames
combined names
legal names
business signatures
previous names
All the Names You Use Are Important
The reason for the form below being comprehensive is that all the names you use or have used have impacted your personality and have shaped the conditions in your life. For us to give you the best analysis, and for you to understand the full importance of this principle, complete all the names which apply to you. If you do leave something out you can revise your free Name and Birth Date Report later. We do not share or give this information to anyone.
Your free Name Report will be emailed to you within 5 minutes.
Order Form - Free Name and Birth Date Report
We Are Here To Help
We thank you for your interest and we look forward to talking with you further about the Kabalarian Philosophy after you have read your Name and Birth Date Report. If you require further assistance, please call our head office using our toll free number of 1-866-489-1188 (or 604-263-9551 outside of North America.)
Thought for the Day