Your First Name of:

Khadine

- What does it mean?
Below is a brief analysis only of the first name of Khadine. For an analysis of your full name and destiny, see our free Name and Birth Date Report service for further details.

Your first name Khadine has given you a rather quiet, reserved, serious, studious nature. You have sensitivity and appreciation for the finer and deeper things of life, the beauties of nature, music, art, and literature. The people who mean the most to you are those who can offer you intellectual companionship. It is only when you are among people who understand your deeper nature that you can really be yourself. The experience of having your remarks taken lightly or belittled, particularly during the early years of your life, has caused you to keep your thoughts and feelings to yourself. You do not express yourself spontaneously when conversing with others; hence other people may often regard you as being aloof, and even unfriendly. Your difficulty in putting your deeper thoughts and feelings into words can lead to problems in more intimate associations. You can express your thoughts best in writing, and you express your appreciation of others through little acts of service rather than verbally. This name has caused you to live much within yourself. You are rather easily hurt or offended. At such times you can withdraw into a mood, and may not even speak to others. Aside from these points, this name contains many fine qualities. You are a thoughtful, analytical person, and you know your own mind, even though you may not speak it. You are very conscientious and competent in all that you do. You take seriously any responsibilities that you have—in the home, in the community, or at a job. However, because the name does not offer naturalness of expression, and as it is too serious an influence, it should be changed. Worry and mental depression could be problems in your life. Physically, any weaknesses in your health would centre in the heart, lungs, or bronchial organs.


Find out more—Free Name and Birth Date Report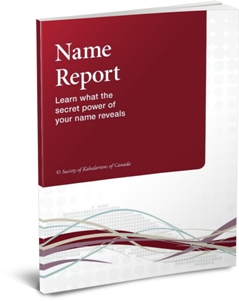 In your free Name and Birth Date Report you will find out how your life is created and shaped by the powerful energies contained in your:
first name
last name
combined names
legal names
business signatures
nickname
life purpose and inner potential measured from your date of birth
destiny
Your report will cover:
the mental strengths and weaknesses your names have created in your thinking.
the key issues in your life shaped by your names that might be holding you back.
the health weaknesses related to the tensions created by improper names and name combinations.
the effect of your names on your ability to be happy and create long-term relationships.
and most importantly, how your names affect your ability to fulfil your inner potential as measured by your birth date.
Your report will be emailed to you as a link to a web document (with an optional PDF download link) within 5 minutes. There is a limit of 6 free reports sent to one email address.
Security of Your Names and Birth Date
The names, birth date, and email you give us are used only in the preparation of your report. We do not share or give this information to anyone.
As well, the information you send us is sent in an encrypted form over a secure internet connection to our server and is totally protected. If you are under 18 be sure to obtain your parent(s) or guardian(s) permission before you order. [Full Privacy and Security Policy]
We only use your email once to send you your Name Report unless you decide to subscribe to our weekly newsletter below.
Order Form - Free Name and Birth Date Report
We Are Here To Help
We thank you for your interest and we look forward to talking with you further about the Kabalarian Philosophy after you have read your free Name and Birth Date Report. If you require further assistance, please call our head office using our toll free number of 1-866-489-1188 (or 604-263-9551 outside of North America.)
Thought for the Day