Is the Name of

Papathi

Helping or Hurting You?
---
All names are not equal. The names you use create your life experiences. Find out how all the names you use and the energy they create have shaped your life in a free Name and Birth Date Report. Life can be better, find out how.

Your name of Papathi has created your spontaneous, friendly personality. You are outgoing and take an interest in others and, as a result, are very well-liked. Although you do lack confidence in many ways, you have an air of poise and composure which leaves the impression that you have everything under control. Many people would find it hard to believe you were lacking in self-assurance at times because, for example, you can take on a project, especially along social lines such as planning a party, or promoting something that requires organizing people, and do very well.

In your work, you would always feel more secure in an intermediary position where management would make the major, or hard, decisions and you would carry them out using your diplomatic and pleasant way with people for the benefit of all. You are not a high-pressure person but you have a quick, discerning mind and could likely think up ideas for improvement. You are not interested in occupations that are tedious, monotonous, or too detailed, but prefer positions where you are dealing with the public and handling finances, or where you are teaching, or directing others.

You have expensive tastes and do like to dress well and make a good impression. You dislike poverty and the harsh realities of life. To be successful financially builds your security. Because you know the value of money, you endeavour to handle your finances successfully. You have a good business head and know that having friends in higher positions gives you the opportunity to meet and mix with people on a more refined, successful level. You appreciate the comfort that comes with financial success and look for opportunities on what can be gained materially from situations. You have a charming personality, not temperamental, but sometimes lacking in the initiative and interest to handle all your responsibilities promptly. Monotonous tasks tend to be put off until you are forced to take action. Too much responsibility creates stress and confusion and you can tend to become indifferent to your obligations through lack of energy to carry on. You do not have a robust nature and can tire easily. At those times, decision-making is an effort.

You are intuitive to others and as a result give good advice. Your understanding nature allows you to perceive the challenges facing people.

Although you do have some fine qualities, you are not experiencing the fullness life has to offer through growth of mind and the emotional and financial stability that would bring you happiness.

The weakness of this name affects the fluids of the body causing kidney trouble, or generative female disorders. You enjoy the pleasures and comforts of life and have a challenge when it comes to self-discipline. Over-eating of heavier foods could cause weight problems.


Do You Want Something Better?
You have a unique inner potential. With your first breath, a spiritual essence and purpose became a part of you and gave you life, caused your heart to beat, and your systems to work, and activated your physical growth. Your particular date of birth determines your unique core purpose, the reason for your life, and the pathway you should follow for ultimate happiness.
Whether your inner potential fully expresses depends upon the names you use!
Are the Names You Use Holding You Back?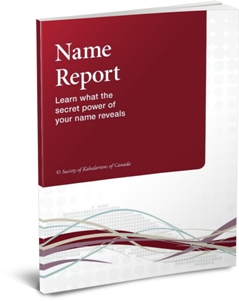 Find out how your life is influenced by all the names you have used. We will analyze your unique inner potential from your date of birth and the names you use in your free Name and Birth Date Report:
Mental/personality strengths and weaknesses
Material and financial success
Key issues in your life that might be holding you back
Personal happiness
Ability to create long-term relationships
Ability to fulfil your inner potential as measured by the date of birth
Why Request your Free Name Report?
The first step in improving your life is to understand why all the names you names use are such a compelling force. A free Name and Birth Date Report will show the effect of all the names you have used:
first name
last name
nicknames
combined names
legal names
business signatures
previous names
All the Names You Use Are Important
The reason for the form below being comprehensive is that all the names you use or have used have impacted your personality and have shaped the conditions in your life. For us to give you the best analysis, and for you to understand the full importance of this principle, complete all the names which apply to you. If you do leave something out you can revise your free Name and Birth Date Report later. We do not share or give this information to anyone.
Your free Name Report will be emailed to you within 5 minutes.
Order Form - Free Name and Birth Date Report
We Are Here To Help
We thank you for your interest and we look forward to talking with you further about the Kabalarian Philosophy after you have read your Name and Birth Date Report. If you require further assistance, please call our head office using our toll free number of 1-866-489-1188 (or 604-263-9551 outside of North America.)
Thought for the Day