Is the Name of

Pyra

Helping or Hurting You?
---
All names are not equal. The names you use create your life experiences. Find out how all the names you use and the energy they create have shaped your life in a free Name and Birth Date Report. Life can be better, find out how.

Your first name of Pyra has developed qualities of positivity, independence, and self-confidence. Being self-assured and self-reliant, you are naturally inclined toward operating your own business or accepting opportunities where your love of freedom is not curtailed. You are very determined, positive in opinion, and resist taking direction and advice from others. Your standards of quality and efficiency are high. Having everything under control is important to you as it reflects your capable, serious nature. You can be depended upon to do any job well and you will often carry out an undertaking yourself instead of accepting a second-rate job accomplished by another.

Devoting some time to helping those in less fortunate circumstances is important to you. You have a forthright, matter-of-fact manner that others turn to in times of need. You are staunch in friendship, and others can depend upon you for guidance and assistance.

You take your responsibilities seriously and have a deep appreciation for family and the home environment. Managing the home, caring for the family, and expressing your creativity in such pursuits as cooking, dressmaking, or interior design is of interest to you. You prefer a simple, uncomplicated life where you can apply originality and ingenuity to express your creative talents. If given the training, you could develop music and art.

Although you are extremely devoted to your family and friends, it is not in your nature to express emotional sentiments. It makes you feel awkward and embarrassed when you are drawn into situations requiring sympathy and understanding, or where lavish affection and compliments are expected. Self-consciousness and lack of expression limit your ability to give in this way.

Your love is shown in what you do for others, in your sense of responsibility and dependability, in the sacrificing of your time to be of assistance. You candidly say what you think and this quality, combined with your diligence to look after the rights of people, can cause others to think of you as being interfering and bossy, or lacking in tact and understanding. It is sometimes challenging for you to listen to and understand the viewpoints of others because your own opinions are strong, sensible, and rational. You do not change your mind readily.

Being relaxed and spontaneous in social or formal situations is sometimes challenging. You appreciate time on your own. Your accomplishments give you a great deal of satisfaction, and involvement in social activities can sometimes make you feel that you are wasting time. You are practical and steadfast but at times too limited in your personal opinions and ideas.

Health weaknesses of this name centre in the head, resulting in such conditions as headaches, sinus problems, or weak eyes. You have a tendency to worry far too much over obligations and responsibilities.


Do You Want Something Better?
You have a unique inner potential. With your first breath, a spiritual essence and purpose became a part of you and gave you life, caused your heart to beat, and your systems to work, and activated your physical growth. Your particular date of birth determines your unique core purpose, the reason for your life, and the pathway you should follow for ultimate happiness.
Whether your inner potential fully expresses depends upon the names you use!
Are the Names You Use Holding You Back?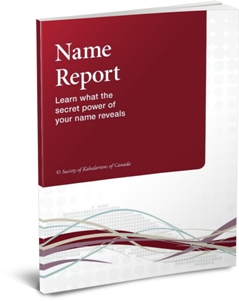 Find out how your life is influenced by all the names you have used. We will analyze your unique inner potential from your date of birth and the names you use in your free Name and Birth Date Report:
Mental/personality strengths and weaknesses
Material and financial success
Key issues in your life that might be holding you back
Personal happiness
Ability to create long-term relationships
Ability to fulfil your inner potential as measured by the date of birth
Why Request your Free Name Report?
The first step in improving your life is to understand why all the names you names use are such a compelling force. A free Name and Birth Date Report will show the effect of all the names you have used:
first name
last name
nicknames
combined names
legal names
business signatures
previous names
All the Names You Use Are Important
The reason for the form below being comprehensive is that all the names you use or have used have impacted your personality and have shaped the conditions in your life. For us to give you the best analysis, and for you to understand the full importance of this principle, complete all the names which apply to you. If you do leave something out you can revise your free Name and Birth Date Report later. We do not share or give this information to anyone.
Your free Name Report will be emailed to you within 5 minutes.
Order Form - Free Name and Birth Date Report
We Are Here To Help
We thank you for your interest and we look forward to talking with you further about the Kabalarian Philosophy after you have read your Name and Birth Date Report. If you require further assistance, please call our head office using our toll free number of 1-866-489-1188 (or 604-263-9551 outside of North America.)
Thought for the Day