Is the Name of

Teaya

Helping or Hurting You?
---
All names are not equal. The names you use create your life experiences. Find out how all the names you use and the energy they create have shaped your life in a free Name and Birth Date Report. Life can be better, find out how.

Your name of Teaya has given you depth of mind and a studious, philosophical nature. You are interested in the deeper aspects of life and invariably are attracted to mystery, the occult, and religious concepts. You have a clever, quick, and analytical mind and you could enjoy and excel in music and drama, or along scientific and mathematical lines.

You are a solitary person, reserved and sensitive. You seldom allow others to get too close until you are sure you will receive understanding. In matters of the heart, you must guard against jealousy and suspicion. Others find it a challenge to get to know you and although you want affection, friendship, and understanding, your aloof, shy qualities rebuff the attention of others.

Because of the sensitivity of your nature, you are easily hurt and offended. You are constantly on guard for fear of being criticized or ridiculed. Even in being reprimanded, you tend to take a haughty attitude and refuse to be advised. You then feel misunderstood and lonely and your thoughts can become turbulent and despondent, occasionally morbid. If you feel that anyone is prying into your life, you try to steer conversations away from yourself. You do not find it easy to articulate your deeper thoughts and feelings; it is much easier for you to pen your thoughts. You could be very creative in composition or poetry. Although you would give anything to be spontaneous, fun-loving, and natural, your name makes you very serious and self-conscious instead. You are not the argumentative type, but you can admonish a person by saying nothing, your silent disapproval being felt by others.

You love books, especially mysteries and romance. You find companionship in novels and can become so absorbed in your reading that you are unaware of what is going on around you. Your vivid imagination places you right in the story and even if someone calls you, you may not hear.

You intensely love the outdoors and all the beauties of nature. A quiet walk in the outdoors, where you can listen to the sounds of nature, the wind in the trees, the lapping of water against a shoreline, the chirping of the birds, which become your companions, allow you to experience peace and freedom.

The extreme sensitivity of this name and the inner turbulence that is often felt may create weaknesses affecting the nervous system, heart and lungs.


Do You Want Something Better?
You have a unique inner potential. With your first breath, a spiritual essence and purpose became a part of you and gave you life, caused your heart to beat, and your systems to work, and activated your physical growth. Your particular date of birth determines your unique core purpose, the reason for your life, and the pathway you should follow for ultimate happiness.
Whether your inner potential fully expresses depends upon the names you use!
Are the Names You Use Holding You Back?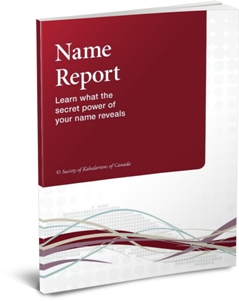 Find out how your life is influenced by all the names you have used. We will analyze your unique inner potential from your date of birth and the names you use in your free Name and Birth Date Report:
Mental/personality strengths and weaknesses
Material and financial success
Key issues in your life that might be holding you back
Personal happiness
Ability to create long-term relationships
Ability to fulfil your inner potential as measured by the date of birth
Why Request your Free Name Report?
The first step in improving your life is to understand why all the names you names use are such a compelling force. A free Name and Birth Date Report will show the effect of all the names you have used:
first name
last name
nicknames
combined names
legal names
business signatures
previous names
All the Names You Use Are Important
The reason for the form below being comprehensive is that all the names you use or have used have impacted your personality and have shaped the conditions in your life. For us to give you the best analysis, and for you to understand the full importance of this principle, complete all the names which apply to you. If you do leave something out you can revise your free Name and Birth Date Report later. We do not share or give this information to anyone.
Your free Name Report will be emailed to you within 5 minutes.
Order Form - Free Name and Birth Date Report
We Are Here To Help
We thank you for your interest and we look forward to talking with you further about the Kabalarian Philosophy after you have read your Name and Birth Date Report. If you require further assistance, please call our head office using our toll free number of 1-866-489-1188 (or 604-263-9551 outside of North America.)
Thought for the Day