Is the Name of

Anmar

Helping or Hurting You?
---
All names are not equal. The names you use create your life experiences. Find out how all the names you use and the energy they create have shaped your life in a free Name and Birth Date Report. Life can be better, find out how.

Your name Anmar gives you tact and diplomacy, and the desire to work with people, to understand them, and to help them in the solution of their problems. You are intuitive and impressionable, sensitive to the thoughts and feelings of others, and very responsive to affection and attention. You tend to be a follower, passive in your approach to life, merging rather than being actively creative, independent, and outspoken. As a result, you must guard against being too easily led, perhaps to divulge confidences, and to talk indiscriminately about others. You dislike issues and will do whatever it takes to avoid direct confrontations. Keeping the peace and expressing kindness, consideration, and courtesy are important to you and often, to your detriment, you allow others to have their way and to take advantage of your willingness to please. This name makes it difficult for you to face issues. Unfortunately, you tend to make promises for the sake of politeness or because you cannot refuse, but these promises are not always fulfilled.

You invariably seek partnerships, for this name causes you to lack confidence in your abilities to be shrewd and to make quick judgments. Encouragement and assurance strengthen your resolve that you are making the best decisions. If you have guidelines and instructions to follow, you can be bold and pragmatic in handling difficult situations. In your work, you would gravitate to positions in sales, teaching, or some field where you deal with people in a position not requiring initiative. You would prefer to avoid positions that would require you to make decisions when there is risk and uncertainty or that would demand concentration and close attention to detail.

Procrastination is a weakness. You are inclined to let things slide until you are forced to take action, especially in dealing with those monotonous jobs that require system and concentration. If a project requires too much hard work, effort, or discomfort, you will seek alternatives to avoid the difficulties and stressful conditions, as you have little resilience for handling tension and persevering in adverse circumstances. Also, you prefer to avoid strenuous physical activities, especially when there is the possibility of physical discomfort or distress. You try to avoid stressful experiences, as you have great difficulty in handling tension.

Overeating of sweet, rich foods aggravates health weaknesses that centre in the fluid functions of the body as poor circulation, kidney and bladder disorders, or, later in life, prostate problems.


Do You Want Something Better?
You have a unique inner potential. With your first breath, a spiritual essence and purpose became a part of you and gave you life, caused your heart to beat, and your systems to work, and activated your physical growth. Your particular date of birth determines your unique core purpose, the reason for your life, and the pathway you should follow for ultimate happiness.
Whether your inner potential fully expresses depends upon the names you use!
Are the Names You Use Holding You Back?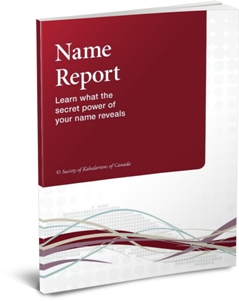 Find out how your life is influenced by all the names you have used. We will analyze your unique inner potential from your date of birth and the names you use in your free Name and Birth Date Report:
Mental/personality strengths and weaknesses
Material and financial success
Key issues in your life that might be holding you back
Personal happiness
Ability to create long-term relationships
Ability to fulfil your inner potential as measured by the date of birth
Why Request your Free Name Report?
The first step in improving your life is to understand why all the names you names use are such a compelling force. A free Name and Birth Date Report will show the effect of all the names you have used:
first name
last name
nicknames
combined names
legal names
business signatures
previous names
All the Names You Use Are Important
The reason for the form below being comprehensive is that all the names you use or have used have impacted your personality and have shaped the conditions in your life. For us to give you the best analysis, and for you to understand the full importance of this principle, complete all the names which apply to you. If you do leave something out you can revise your free Name and Birth Date Report later. We do not share or give this information to anyone.
Your free Name Report will be emailed to you within 5 minutes.
Order Form - Free Name and Birth Date Report
We Are Here To Help
We thank you for your interest and we look forward to talking with you further about the Kabalarian Philosophy after you have read your Name and Birth Date Report. If you require further assistance, please call our head office using our toll free number of 1-866-489-1188 (or 604-263-9551 outside of North America.)
Thought for the Day