Is the Name of

Pecker

Helping or Hurting You?
---
All names are not equal. The names you use create your life experiences. Find out how all the names you use and the energy they create have shaped your life in a free Name and Birth Date Report. Life can be better, find out how.

Your name of Pecker has formed an independent, positive, and determined personality. You are not easily influenced by the opinions of others, who may accuse you of being stubborn. Once you have made a decision, you put forth great effort to accomplish your goals regardless of obstacles. Your progress is built upon your meticulous awareness of detail, your patience, and your consistent hard work. You do not have great ambitions and your requirements in life are moderate.

You are a realist with interests in mathematics and technical or scientific fields. With training and experience you could be inventive in these fields. You are interested in facts and figures and do well in positions that require great attention to detail, such as accounting or computer technology. Activities combining ingenuity and manual skills are of particular interest, enabling you to excel in technical vocations, for example, as a mechanical, electrical, or electronics technician. It is difficult for you to visualize or theorize unless the ideas being presented are developed in a logical step-by-step manner. It is what you can see, experience, and prove through compilation of facts, experiment, and logic that has greatest value to you. You are rather skeptical of new ideas that are more visionary, idealistic, or philosophical. This name inhibits the inspirational quality of musical or artistic expression, in which any interests you have would lean toward the practical, technical aspects and the perfection of technique.

Your loyalty to, and appreciation for, your family and friends are shown by what you do for them rather than what you say. This name limits your ability to be expressive, imaginative, and versatile. As a result, this limitation causes repression and frustration at times. In personal relationships, it is hard for you to express the appreciation and compliments that mean so much to some people. Also, you do not appreciate being the target for sentiment or flattery. You are not overly conversational; in fact, at times, you consider time wasted when spent in idle chatter. You are more interested in being active and accomplishing the tasks you set for yourself. Your lack of expression can lead to misunderstandings and unhappiness with those close to you who do not understand your practical, candid, somewhat self-centred approach. Humour and spontaneity are not natural expressions of this name. You are serious and methodical.

Health weaknesses of this name are in the head, resulting in such conditions as headaches, sinus problems, weak eyes, or impaired hearing. Also, your fondness for heavier foods can affect the intestinal organs causing constipation, hemorrhoids and, in severe cases, ulcers or growths.


Do You Want Something Better?
You have a unique inner potential. With your first breath, a spiritual essence and purpose became a part of you and gave you life, caused your heart to beat, and your systems to work, and activated your physical growth. Your particular date of birth determines your unique core purpose, the reason for your life, and the pathway you should follow for ultimate happiness.
Whether your inner potential fully expresses depends upon the names you use!
Are the Names You Use Holding You Back?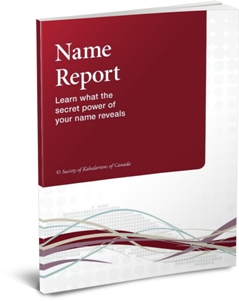 Find out how your life is influenced by all the names you have used. We will analyze your unique inner potential from your date of birth and the names you use in your free Name and Birth Date Report:
Mental/personality strengths and weaknesses
Material and financial success
Key issues in your life that might be holding you back
Personal happiness
Ability to create long-term relationships
Ability to fulfil your inner potential as measured by the date of birth
Why Request your Free Name Report?
The first step in improving your life is to understand why all the names you names use are such a compelling force. A free Name and Birth Date Report will show the effect of all the names you have used:
first name
last name
nicknames
combined names
legal names
business signatures
previous names
All the Names You Use Are Important
The reason for the form below being comprehensive is that all the names you use or have used have impacted your personality and have shaped the conditions in your life. For us to give you the best analysis, and for you to understand the full importance of this principle, complete all the names which apply to you. If you do leave something out you can revise your free Name and Birth Date Report later. We do not share or give this information to anyone.
Your free Name Report will be emailed to you within 5 minutes.
Order Form - Free Name and Birth Date Report
We Are Here To Help
We thank you for your interest and we look forward to talking with you further about the Kabalarian Philosophy after you have read your Name and Birth Date Report. If you require further assistance, please call our head office using our toll free number of 1-866-489-1188 (or 604-263-9551 outside of North America.)
Thought for the Day